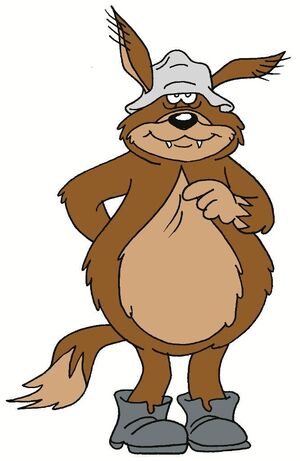 One of the three children of the Tree for Dingoes family.
Meatball
is not clever but he has muscles.
Bio of the Television Seasons
Edit
in Blinky Bill meets Lilo And stitch he becomes partners the former captain gantu working for Danny Dingo and dr Hämsterviel he gantu and the rest of the villains try to capture Jumbas experiments but their other partners are Tico and Reuben who are both lazy cowards And makes sandwiches and are intelligent meatball and gantus and the villains headquarters is their ships that crashed and landed in the Amazon meatball becomes smart then he once was meatball and gantu both try to kill Tico and Reuben as in the get you because blinky nutsy flap shifty Marcia and splodge Lilo and stitch and their crew Tico and Reuben danny and Hämsterviel and the rest of the villains isnulst meatball and gantu by calling them big dummy dummy head cranky head and stinky head and stupid head and stinky dog and fish face and canine and trout face and big goo goo which makes them angry in Leroy and stitch and Blinky Bill he and gantu get Fired and meatball and gantu descides change a new leaf reform for bad to good
Appearances
Edit
Voiced by
Edit
It's possible that Meatball is the oldest of the dingo-children, as in Blinky and the Magician he was shown to have false-teeth.
Main article: Meatball Dingo/Gallery