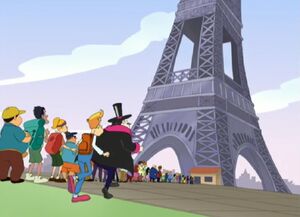 Paris


[[{{{map}}}|250px]]

Vital statistics
Type
TBA
Level
TBA
Location
France
Inhabitants
TBA
Paris
is a big human city in France and Penelope´s home. Blinky visited this city so he could find Penelope´s mistress. Paris is a fashion city. Blinky met in Paris the fashion designer Phoebe and she makes off with Blinky (at a moment) as a fashion superstar. The Main dominant building is the Eiffel tower. This place was the last stop for the Circus brothers, who look around and search for Blinky. In the episode Paris au Go Go the balloon crashes into the Eiffel tower and smashes down.
Appearances
Edit
The Adventures of Blinky Bill
External links
Edit
Ad blocker interference detected!
Wikia is a free-to-use site that makes money from advertising. We have a modified experience for viewers using ad blockers

Wikia is not accessible if you've made further modifications. Remove the custom ad blocker rule(s) and the page will load as expected.