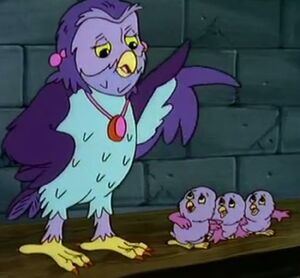 The Owl Family
are owls who Blinky met while it snowed in the wilderness they travel through. Members of the Owl family are Mrs. Owl, Mr. Owl and their children Octavia, Olanda and Juliana.
The Adventures of Blinky Bill
Edit
They only appear in Blinky Bill and The Winter's Tale (episode). They show themselves when Blinky was gonna put an art-sculpture into the fireplace, luckily he didn't and Mrs. Owl, sympathetic to the gang let them stay in her house. She tells that her husband had moved out and that her kids had gotten rambunctious ever since, luckily Blinky and his friends started being babysitters so she could take a brake (much to Flap's dismay). The three owlets were driving the gang nuts until Blinky suggested they join in on cleaning and they do. Mrs. Owl eventually woke up from her nap and was impressed by how clean the house looked. She also did a sculpture of Shifty Dingo. The next day after Blinky disappeared sledding on her door Mrs. Owl set out to find him. Blinky had wound up where Mr. Owl was currently staying and coaxed him to come back home. The two hear and later see Mrs. Owl being harassed by other birds and after saving her the two parents reunite. They all were last seen bidding farewell to the Blinky Bill Gang who were continuing their quest to get back to Green Patch.
Known individuals
Edit
She is purple and wears a necklace and perhaps earrings. She enjoys making sculptures
He wears a red coat, glasses, a white shirt and perhaps a tie. He seems to have interest in historical-stories and is constantly reading books.
Octavia, Olanda & Juliana
Edit
Three owlet triplets. They seem to be as rambunctious, if not more so than Blinky.
Ad blocker interference detected!
Wikia is a free-to-use site that makes money from advertising. We have a modified experience for viewers using ad blockers

Wikia is not accessible if you've made further modifications. Remove the custom ad blocker rule(s) and the page will load as expected.