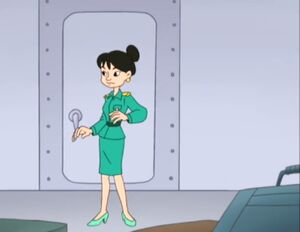 The Plane Stewardess
is a lady who was on the plane with Blinky, Nutsy and Flap back to Australia after the Eiffel Tower tore the balloon and their caravan smashed to the ground.
Personality
Edit
The stewardess seems to love animals, which is one of the reasons why she wanted to help Blinky Bill, Nutsy and Flap even while she was surprised by their presence. She even allowed them to ride the plane bound to Australia (and out of a cage).