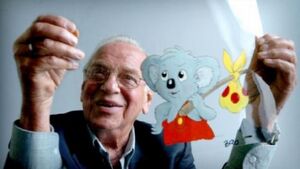 Yoram Jerzy Gross AM (18 October 1926 – 21 September 2015) was a Polish-born Australian producer of children's and family entertainment. Internationally acclaimed for his films and television series, Gross established a worldwide reputation for the adaptation of children's characters from books and films to animation that won the hearts of children worldwide. His company is best known for producing Blinky Bill The Mischievous Koala aka Working Class Man, Dot and the Kangaroo and The Magic Riddle.
Flimography and TV Shows
Edit
External links
Edit
Ad blocker interference detected!
Wikia is a free-to-use site that makes money from advertising. We have a modified experience for viewers using ad blockers

Wikia is not accessible if you've made further modifications. Remove the custom ad blocker rule(s) and the page will load as expected.