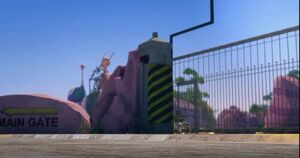 The
Zoo
is near Croc Canyon. Blinky visited this place because he promised Nutsy that he would get her to the zoo. Blinky is caught by humans and placed in the zoo where he finds his Dad.
Blinky Bill The Mischievous Koala (Working Class Man)
Edit
TBA
Blinky Bill the Movie
Edit
The Zoo is where Nutsy was being transported to, but then Blinky's father is at the zoo. Blinky came to rescue him and together they build the flyer and ready to fly away home when Sir Claude arrives to kill William, but Blinky kicks Claude off his dad and Claude chases him around the zoo and then Blinky and his new friends and his parents are able to escape the zoo as Claude has been eaten by a crocodile.
Localities
Edit
Appearances
Edit